Bring in the children so they can shop for Christmas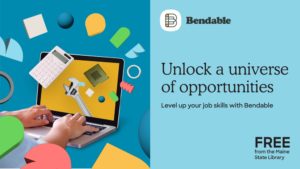 Bendable Maine is, in large part, a discovery tool—a way for residents to easily find and access the learning that is just right for them. In turn, curating content—picking which learning resources to offer in the system and from which providers—is essential for enabling and enhancing that process of discovery. Click on the logo to unlock a universe of opportunities!
Free online Ancestry Library in the Library on our Wi-Fi.
---
---
---
---
Circulation 2021

---
REGULAR HOURS:  
Tuesday………………10:00 – 5:00
Wednesday………….10:00 – 7:00
Thursday……………..10:00 – 5:00
Friday…………………..10:00 – 5:00
Saturday………………10:00 – 2:00
Sunday………………………..closed
Monday……………………….closed
Questions, comments or suggestions? We would love to hear from you.
Street Address: 21 High Street, Wiscasset, ME 04578
Email: wpl@wiscassetlibrary.org   Telephone: 207-882-7161     Fax: 207-882-6698