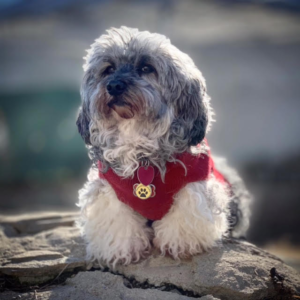 Children's Christmas Sale 2022
Promoting the spirit of giving 
WPL Children's Christmas sale, Dec. 3, 10am-1pm
A very popular part of the Wiscasset Holiday Marketfest returns this year: the Children's Christmas Sale at Wiscasset Public Library. The Friends of WPL will host the sale on Saturday, Dec. 3 from 10:00 a.m. to 1:00 p.m. Children can come to the library at any time during sale hours and shop for family members with the help of our friendly elves. All items are priced $5 or less, and our elves will wrap the gifts. Children will be able select special gifts for their loved ones while parents wait nearby. The children will rejoin their parents with their gifts ready to go under the tree.
Bring your camera because the littlest elf, Bradley the Havanese, will be wearing his bright red sweater.  He is a sweet chap who will happily pose for pictures with the children. Another one of our elves will be juggling for your entertainment. We are looking forward to this fun and festive event! If you have any questions, please contact Tracey Whitney at twhitney@cksvt.org. All proceeds support Wiscasset Public Library.
You can find more information about Wiscasset Holiday Marketfest weekend events by visiting WiscassetHolidayMarketfest.com.